Let us create an experience for you like these: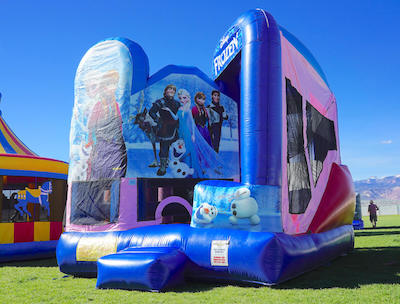 "Great Customer Service"
I rented the Frozen bounce house with water for the waterslide and the kids loved it. I had kids from age 2 to 15 that all played on it. I even had 2 adults on there playing. The customer service was the best. They go above and beyond to make sure you are happy and everything works. I haven't seen customer service like this in a while. We also got the Shaved Ice machine. It is little but it does an awesome job. When they told me it only does 50 I was worried it wasn't enough but it was and it is easy to do. Thanks, St. George Fun for your hard work and great customer service.

~ Tammy S.
"Best Idea We Had All Week"
My parents live in St. George, so my sisters and I decided to book a trip out here to see them with all of our children. Are kids were so excited to be here and it showed in their love of chasing each other around my parents home, resulting in us moms running around the house attempting to block any potential damage our toddlers might cause. My mom had a great idea of renting a bounce house for the kids. I had no idea you could just rent a bounce house and have it delivered to your door. Let me tell you it was the best idea we had all week. The kids played for hours and the moms could watch and catch up. The company came and set it up in the front yard, instructed us on how to use it, and then came and took it down for us in the end. It was a stress free, worry free activity for our kids. We will be doing this every time our family gets together.

~ Lexy R.
"No Ordinary Bounce House"
We usually create birthday parties for our children and stress out about all the hard work involved.  This year we tried something different for our six year-old son's party. . .  we went with St. George Fun and rented a bounce house.  The one we rented was no ordinary bounce house; it had both a giant slide along with the bounce house.  There were eight kids at the party, plus our other two kids, and we never had to tell any of them to wait for their turn because this bounce house had so much space.  The hardest part of renting with St. George Fun was deciding which bounce house to rent because they have so many choices available.  St. George Fun is a great company and they provided a top of the line product with outstanding service; we will rent from St. George Fun again and recommend them with high marks.

~ Brad and Stacy C.
"It was the best birthday"
My kids had such an amazing time on this bounce house. It was the best birthday. I loved they were entertained for hours. I was very impressed they came set it up and when it was over they took it down. Hassle free. Thanks so much.

~ Darci L.
1029 Majestic Dr.
Washington, UT 84780
1029 Majestic Dr.
Washington, UT 84780